Our 2016-2017 Class Schedule is now available!
To view our schedule, please go to the "Forms" section of our website. To register for a class, please fill out the 2016-2017 Class Registration Form. You can send this form to us via fax (301-251-2116), email (xtremegym@verizon.net), post mail (14702 Southlawn Ln, Rockville, MD 20850) or drop it off by hand Monday-Friday from 12-6. Please call us at 301-251-5525 with any questions.
---
2016 Xtreme Acrobatic Gymnastics Tryouts!
Wednesday, August 31st 5:30-7:30
Come try out for one of the highest ranked Acrobatic Gymnastics Team in the nation! No committment is required to try out, and everyone is welcome! We offer Preporatory Teams up to the Elite and International Levels. Please check out our Tryout Flyer under the "Forms" section of our website.
---
2016 Acrobatic National Championships in Rhode Island was a huge success! We left Providence with

27 Gold Medals,

5 Silver Medals

and

7 Bronze Medals

! Way to go Xtreme athletes!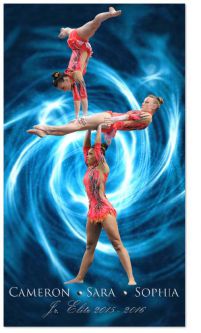 ---
Summer Open Gym Schedule:
Monday through Friday: 12pm-1pm $7
Monday, Wednesday, Thursday: 3:30pm-5:00pm $10
Friday: 7:00pm-8:30pm $10
---
We are now hiring class instructors and tumbling instructors. Please call 301-251-5525 to schedule an interview.
---
Xtreme Acro is Conveniently Located at:
14702 Southlawn Lane
Rockville, MD 20850
Phone: 301-251-5525
Fax: 301-251-2116
Contact us at: xtremegym@verizon.net
---